ENERO, 10
Accenture adquiere Oasys para reforzar sus capacidades en el sector industrial
Barcelona, 10 de enero de 2023 - Accenture (NYSE: ACN) ha adquirido Oasys, proveedor de soluciones digitales para la industria farmacéutica, de equipamiento industrial, alimentación y transporte urbano. Con esta operación, Accenture refuerza sus capacidades para ayudar a los clientes a crear y gestionar fábricas inteligentes e infraestructuras de transporte. Los términos económicos de la transacción no son públicos.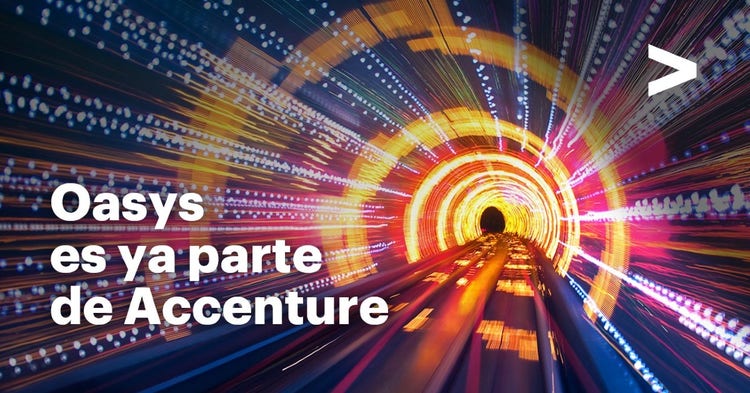 Oasys cuenta con una amplia experiencia en técnicas y tecnologías básicas para digitalizar entornos de producción y transporte, como robótica y automatización industrial, gestión de operaciones de producción (MOM), sistemas de ejecución de producción (MES), gestión inteligente de activos (IAM) y captura de datos de fábrica. La empresa desarrolla sus soluciones con software industrial y de automatización de proveedores como Siemens, Schneider Electric y Aveva (Wonderware).

Fundada en 2013, Oasys tiene su sede en Barcelona. Sus más de 110 ingenieros se incorporarán al área de ingeniería y fabricación digital de Industria X de Accenture, lo que supondrá una importante ampliación de las capacidades industriales digitales de Accenture en España.

"Las tecnologías digitales están transformando por completo la fabricación. Esto contribuye a la reinvención integral por la que atravesarán las empresas de más éxito a lo largo de la próxima década", ha señalado Julio Juan Prieto, managing director de Industry X de Accenture en España, Portugal e Israel. "La combinación de la experiencia de fabricación de Oasys con nuestros conocimientos industriales y digitales refuerza nuestra capacidad para ayudar a clientes industriales a gestionar con éxito esta parte fundamental de su reinvención".

David Revilla, director de negocio de Oasys, ha comentado: "La gran transformación digital de la industria requiere de compañías que puedan ofrecer al cliente tanto capacidades tecnológicas y experiencia en el sector, como solvencia necesaria para dar respuesta a todos los requerimientos de un proyecto de digitalización. Incorporarnos a Accenture amplía radicalmente las capacidades de nuestro equipo, haciéndonos aún más relevantes en el mercado".

"Las empresas industriales, vitales para la economía española, están operando en un entorno empresarial extremadamente volátil. Con la incorporación de Oasys, ampliamos nuestras capacidades para ayudar a los clientes a afrontar este desafío, acelerar el crecimiento, mejorar la productividad y la seguridad, e integrar la sostenibilidad en sus operaciones", ha concluido Domingo Mirón, presidente de Accenture en España, Portugal e Israel.

La adquisición de Oasys se suma a otras que Accenture ha realizado recientemente en España: la compañía especializada en estrategia de operaciones, Alfa Consulting, la empresa de ingeniería de redes de telecomunicaciones, Arca, y el proveedor de servicios en la nube Enimbos.

Con Oasys, Accenture continúa reforzando sus capacidades de ingeniería y fabricación digital en mercados clave. A nivel global, el mes pasado adquirió el proveedor de soluciones de robótica y automatización industrial Eclipse Automation (Canadá). Otras de las empresas adquiridas recientemente han sido el proveedor internacional de servicios de ingeniería umlaut (con sede en Alemania y presencia en Francia y España, entre otros países), las empresas especializadas en rendimiento y gestión de activos Advoco (Estados Unidos) y T.A. Cook (Alemania), la empresa de ingeniería digital y tecnología de operaciones Trancom ITS (Japón), y el proveedor de soluciones de robótica y automatización industrial Pollux (Brasil).

Sobre Accenture
Accenture es una compañía líder mundial en servicios profesionales que ayuda a las principales empresas, administraciones públicas y otras organizaciones del mundo a desarrollar su core digital, optimizar sus operaciones, acelerar el crecimiento de sus ingresos y mejorar los servicios para los ciudadanos, creando valor tangible a velocidad y escala. Somos una empresa liderada por el talento y la innovación con 738.000 personas que prestan sus servicios a clientes en más de 120 países. La tecnología está hoy en el centro del cambio, y somos uno de los líderes mundiales en ayudar a impulsarlo, con sólidas relaciones con el ecosistema. Combinamos nuestras fortalezas en tecnología con una experiencia contrastada en distintos sectores económicos, funciones empresariales y alcance global. Tenemos la capacidad única de ofrecer resultados tangibles a través de nuestra amplia gama de servicios, soluciones y activos en Estrategia y Consultoría, Tecnología, Operaciones, Industria X y Accenture Song. Estas capacidades, junto con nuestra cultura de éxito compartido y el compromiso de crear valor 360°, nos permiten ayudar a nuestros clientes a tener éxito y construir relaciones de confianza y duraderas. Medimos nuestro éxito por el valor 360° que creamos para nuestros clientes, entre nosotros, nuestros accionistas, socios y la sociedad en general. Visítanos en www.accenture.es\
# # #

Contacto

José Luis Sánchez
609 04 71 38
jose.l.sanchez@accenture.com

Berta Díaz
691 33 88 89
berta.diaz.olivas@accenture.com


# # #

Forward-Looking Statements
Except for the historical information and discussions contained herein, statements in this news release may constitute forward-looking statements within the meaning of the Private Securities Litigation Reform Act of 1995. Words such as "may," "will," "should," "likely," "anticipates," "aspires," "expects," "intends," "plans," "projects," "believes," "estimates," "positioned," "outlook," "goal," "target" and similar expressions are used to identify these forward-looking statements. These statements are not guarantees of future performance nor promises that goals or targets will be met, and involve a number of risks, uncertainties and other factors that are difficult to predict and could cause actual results to differ materially from those expressed or implied. These risks include, without limitation, risks that: the transaction might not achieve the anticipated benefits for Accenture; Accenture's results of operations have been, and may in the future be, adversely affected by volatile, negative or uncertain economic and political conditions and the effects of these conditions on the company's clients' businesses and levels of business activity; Accenture's business depends on generating and maintaining client demand for the company's services and solutions including through the adaptation and expansion of its services and solutions in response to ongoing changes in technology and offerings, and a significant reduction in such demand or an inability to respond to the evolving technological environment could materially affect the company's results of operations; if Accenture is unable to match people and their skills with client demand around the world and attract and retain professionals with strong leadership skills, the company's business, the utilization rate of the company's professionals and the company's results of operations may be materially adversely affected; Accenture faces legal, reputational and financial risks from any failure to protect client and/or company data from security incidents or cyberattacks; the markets in which Accenture operates are highly competitive, and Accenture might not be able to compete effectively; Accenture's ability to attract and retain business and employees may depend on its reputation in the marketplace; Accenture's environmental, social and governance (ESG) commitments and disclosures may expose it to reputational risks and legal liability; if Accenture does not successfully manage and develop its relationships with key ecosystem partners or fails to anticipate and establish new alliances in new technologies, the company's results of operations could be adversely affected; Accenture's profitability could materially suffer if the company is unable to obtain favorable pricing for its services and solutions, if the company is unable to remain competitive, if its cost-management strategies are unsuccessful or if it experiences delivery inefficiencies or fail to satisfy certain agreed-upon targets or specific service levels; changes in Accenture's level of taxes, as well as audits, investigations and tax proceedings, or changes in tax laws or in their interpretation or enforcement, could have a material adverse effect on the company's effective tax rate, results of operations, cash flows and financial condition; Accenture's results of operations could be materially adversely affected by fluctuations in foreign currency exchange rates; changes to accounting standards or in the estimates and assumptions Accenture makes in connection with the preparation of its consolidated financial statements could adversely affect its financial results; as a result of Accenture's geographically diverse operations and strategy to continue to grow in key markets around the world, the company is more susceptible to certain risks; if Accenture is unable to manage the organizational challenges associated with its size, the company might be unable to achieve its business objectives; Accenture might not be successful at acquiring, investing in or integrating businesses, entering into joint ventures or divesting businesses; Accenture's business could be materially adversely affected if the company incurs legal liability; Accenture's global operations expose the company to numerous and sometimes conflicting legal and regulatory requirements; Accenture's work with government clients exposes the company to additional risks inherent in the government contracting environment; if Accenture is unable to protect or enforce its intellectual property rights or if Accenture's services or solutions infringe upon the intellectual property rights of others or the company loses its ability to utilize the intellectual property of others, its business could be adversely affected; Accenture may be subject to criticism and negative publicity related to its incorporation in Ireland; as well as the risks, uncertainties and other factors discussed under the "Risk Factors" heading in Accenture plc's most recent Annual Report on Form 10-K and other documents filed with or furnished to the Securities and Exchange Commission. Statements in this news release speak only as of the date they were made, and Accenture undertakes no duty to update any forward-looking statements made in this news release or to conform such statements to actual results or changes in Accenture's expectations.
Copyright © 2023 Accenture. All rights reserved. Accenture and its logo are trademarks of Accenture.

This content is provided for general information purposes and is not intended to be used in place of consultation with our professional advisors. This document refers to trademarks owned by third parties. All such third-party trademarks are the property of their respective owners. No sponsorship, endorsement or approval of this content by the owners of such trademarks is intended, expressed or implied.